Wedding Decorators In Udaipur
For Labh Garh, No event is too small or too large. We deal with the Country's top wedding decorators in Udaipur and have a variety of almost all budgets. We have a unique portfolio that includes Indian Wedding Ceremonies. These wedding decorators offer indoor and outdoor wedding decoration services, preparing you whether it needs a traditional Mandap or a modest and rich event that requires essential hanging. Check out the pictures of their work and reviews to select your favorite one. Request a callback from us or contact the wedding decorators directly.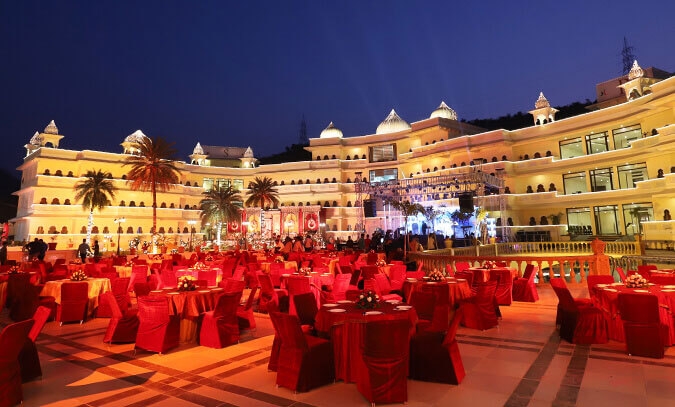 You have been dreaming about your wedding forever. And It MUST look the prettiest. So We've come to organize an event. You may put your confidence in us and share your ideas and desires with us so that we can successfully manage and execute your make-believe wedding. Our guests see us as wedding decoration experts. As a result, you can rely on us without having to worry about the wedding. We pay attention to every detail, no matter how big or small.
LabhGarh is your luxurious events stylistic theme and gathering rental source. We primarily consider the Indian people group for their occasion stylistic layout needs. We have some experience with wedding decorations, and we can also cater to any minor or significant event. Our auxiliary professionals thoroughly investigate each layout alongside our planners to guarantee that the building isn't merely pleasing to look at but fundamentally sturdy. We realize that genuine loving care never goes unseen, which makes them stand out. 
Aside from providing Backdrop/Stage designs and Centerpieces/Table aesthetic arrangement, we also provide room up-lighting and strategic support to ensure that all of your event demands are met. Our high quality, unique constructions, and exceptional customer service ensure that your big day goes off without a hitch.